East Delano Avenue Reconstruction, Muskegon County

Phase One Start: November 2021 Phase One End: November 2021
Phase Two Start: Spring 2022 Phase Two End: Spring 2022
Investment: $650,000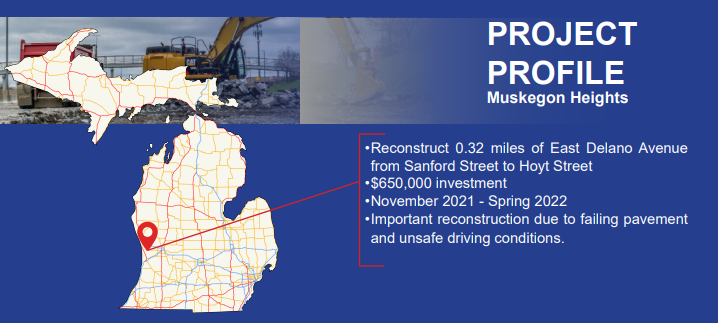 What Is Being Done?
The project involves full depth reconstruction of two lanes of undivided roadway in two phases:

Phase One:

Asphalt Removal
Sidewalk and curb removals
Storm sewer improvements

Roadway grading and aggregate base

Phase Two:

Concrete curbs
Sidewalk and driveway improvements
Asphalt paving and turf restoration

How Traffic Will be Affected:
Construction will take place in two phases:

Delano Avenue will be temporarily closed during construction between the intersection of Sanford
Street to the intersection of Hoyt Street. Residents are encouraged to park on side streets during
construction.
Traffic to businesses and residents will be maintained utilizing side streets and alleys.
Pedestrian traffic will be detoured as necessary during construction.